2021 Religion and Peace Studies Newsletter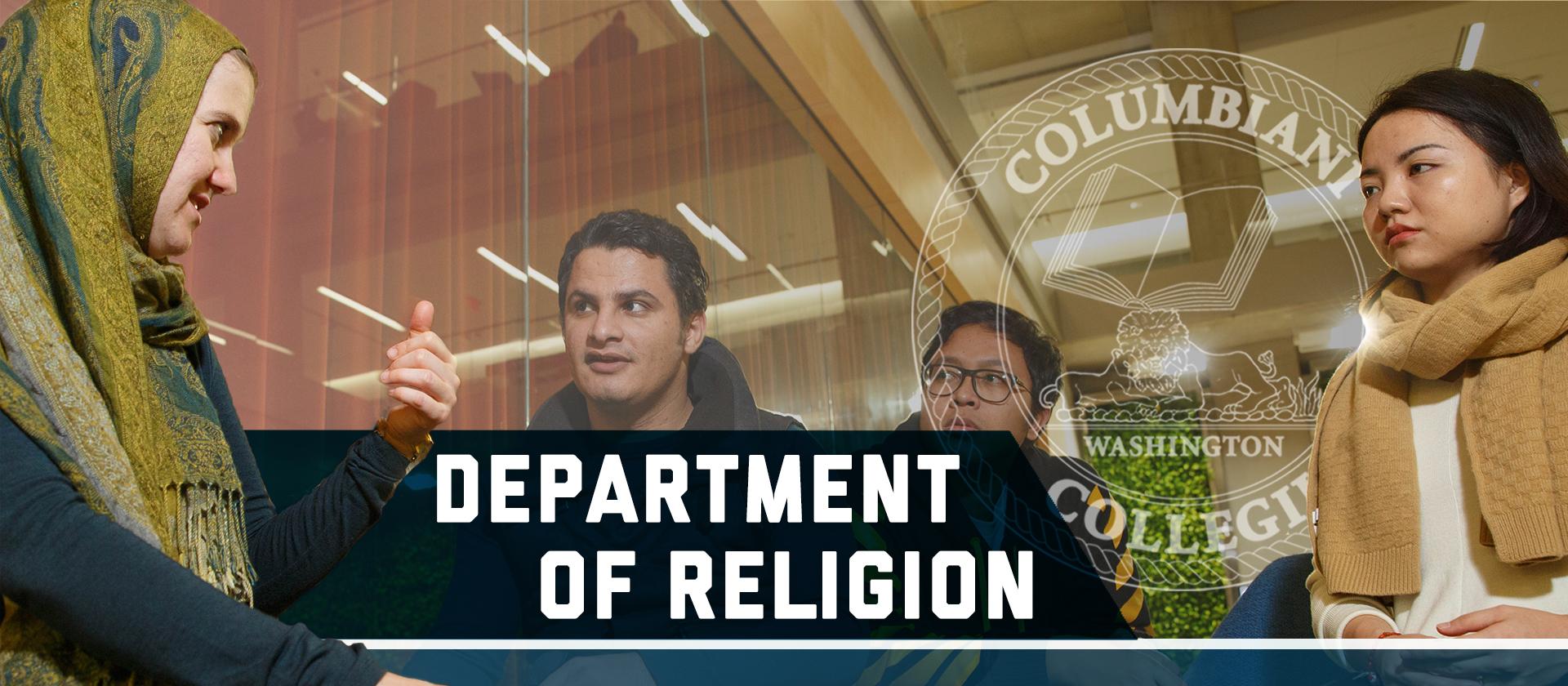 Message from the Chair
Department Spotlights
Alumni Class Notes 
Faculty Kudos
---
Message from the Chair
Dear Religion and Peace Studies Alumni and Friends,
We are delighted to be back in the classroom for the fall of 2021! After an extraordinarily difficult past year, seeing students, faculty and friends on the Foggy Bottom campus is especially delightful. Although life is not quite like it was pre-pandemic, much of the energy of the college campus has returned and we are impressed by the resilience of our students, who have begun this fall with a hopeful enthusiasm.
During the last year, we have tried our best to continue the high-quality teaching and research for which the department is known. In addition to having taught a full slate of courses online this past year, we welcomed a new department administrator, Ryan Halloran, who is a doctoral candidate in Religion at Temple University. We are deeply grateful to all our friends, alumni and donors for your support during the past year, and we look forward to seeing many of you in-person soon.
Sincerely,
Dr. Irene Oh
Religion and Peace Studies Department Chair
---
Department Spotlights 
The department presented a virtual lecture on Native American traditions and environmental activism.
The David and Sherry Berz Endowed Lecture
Through the continued generosity of David and Sherry Berz, the Religion Department hosted Professor Daniel Wildcat and Dr. Samantha Chisholm Hatfield to speak on the topic of Native American traditions and environmental activism. This marked the first time that the department has hosted an endowed lecture on indigenous traditions. Over 30 students attended the virtual Zoom lecture, where we learned about the numerous ways in which knowledge about and respect for the environment are interwoven through the culture and practices of Native American communities.
The Global Affairs and Religion Network (GARNET) brings together faculty from the Department of Religion and the Elliott School of International Affairs on a monthly basis to discuss topics ranging from QAnon to the economics of religion. During these lunch meetings, faculty present topics based on current research, news events or personal interest for collegial conversation. A recent launch event attracted more than 60 students, faculty and members of the community to listen to Professor of Religion Paul Duff discuss the spread of Christianity in a borderless Roman Empire.
---
Alumni Class Notes
Shivani Bhatt, BA '06, MD '10, is a pediatric cardiologist.
Keely Dion, BA '21, is currently pursuing a master's in international security at Sciences Po's Paris School of International Affairs, specifically focusing on African peace operations.
Elizabeth Maier, BA '00, is the director of the School of Criminal Justice at the University of Central Oklahoma.
Carol McClenon, BA '76, was appointed to the province leadership team for the Sisters of the Good Shepherd in St. Louis, Missouri.
Richard Taliaferro, MA '60, lives in Goodwin House Alexandria, an Episcopal retirement community, with his wife, Norma. They are supporting the resettlement of Afghan refugees.
Rehan Waheed, BA '03, MA '04, practices medicine as an interventional spine care physician in Winchester, Va. He enjoys watching Colonials basketball and traveling with his wife and children.
Carolyn Zuttel, BA '78, published Mabel's Letters by Letter Writers of the Twentieth Century. 
---
Faculty Kudos
Eyal Aviv co-authored an article with his student Kaleigh Spires, BA '21, titled "Buddhism and Cognitive Sciences in Dialogue: Pedagogical Reflections on Teaching across Disciplines" in the journal Religions.
Paul Duff's book chapter, "Tracking Titus and Chronicling the Collection; 2 Corinthians 8 and 9," was published in Die Exegese des 2 Kor und Phil im Lichte der Literarkritik. He also presented a paper to the Society of Biblical Literature annual meeting on December 6, 2020 titled "From Sinai to Corinth: Paul's Allusions to Moses and Scripture in 2 Cor 2:14-4:6." He intends to have the paper published as a book chapter in a future volume on biblical allusions in 2 Corinthians.
Robert Eisen published the book Judaism and Violence: A Historical Analysis with Insights from Social Psychology, which will be available October 2021 from Cambridge University Press.
Stephanie Gemmell, BA '21 was mentored by Professor Paul Duff as she achieved first place for her essay in the national Theta Alpha Kappa Albert Clark Prize competition. Her essay will be published in the Journal of Theta Alpha Kappa in 2022.
Mohammad Faghfoory has had four recent publications including: the forward to Laleh Bakhtiar, The Nahj al-Balaghah: The Earliest Commentary Upon the Qur'an, "Shah Esma'il: Deputy of the Hidden Imam," in Zeitschrift der Deutschen Morgenlandischen Gesellschaft-Germany, "Nasir al-Din Tusi: The Nasirian Ethics and the Islamic Concept of Class" in Khairudin Aljunied (ed.) Knowledge and Civilization in Islam and a book review, Conversion to Islam: Competing Themes in Early Islamic Historiography by Ayman S. Ibrahim in Journal of South Asian and Middle Eastern Studies.
Xiaofei Kang received the ACLS Frederic E. Wakeman, Jr. Fellowship to complete her manuscript, Enchanted Revolution: Ghosts, Shamans, and Gender Politics in Communist Propaganda, 1942-1953.
Derek Malone-France has aided the continued growth of the Peace Studies Program through collaborative research and teaching programs with Universidad del Rosario and Universidad de los Andes in Bogotá, Colombia. You can learn more about the project on the CCAS Panamericanos blog.
Irene Oh has been elected co-editor-in-chief of the Journal of Religious Ethics. She recently published an essay in the JRE on COVID-19. Professor Oh will be speaking at the American Academy of Religion on a panel honoring the work of Barney Twiss and comparative religious ethics.