Rosenwald
Jews and African Americans: A Story of Hope
Thu, 28 January, 2016
9:00pm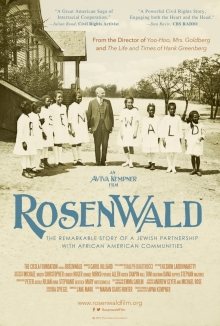 Join us for a screening of the documentary Rosenwald, followed by a discussion with director Aviva Kempner, Religion Department Chair Robert Eisen, and Africana Studies Director Jennifer James.
Rosenwald is the incredible story of Jewish philanthropist Julius Rosenwald. A high school dropout who rose to become the President of Sears, Rosenwald joined forces with African American communities during the Jim Crow South to build over 5,300 schools.
Inspired by the Jewish ideals of tzedakah (charity) and tikkun olam (repairing the world), and a deep concern over racial inequality in America, Julius Rosenwald used his wealth to become one of America's most effective philanthropists.
Please join us after the event for a light reception.
This free event is generously supported by the Abbie Ziffren Memorial Fund, King Week, Religion, Peace Studies, Africana Studies, and Judaic Studies.