Love Your Neighbor: Jews, Christians, and the Meaning of a Very Elusive Commandment
Thu, 28 March, 2019
9:00pm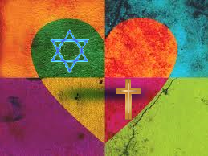 Please join us on Thursday, March 28 in the Marvin Center, Room 301 for the 2019 Ziffren Lecture: "Love Your Neighbor: Jews, Christians, and the Meaning of a Very Elusive Commandment"
Speaker: Rabbi Shai Held, President, Dean, and Chair in Jewish Thought at Hadar
Abstract: The biblical mandate to "love your neighbor as yourself" is frequently held up in Jewish sources as "the great principle of the Torah."  Yet its meaning is elusive: just what is the verse asking for?  Does "love" refer to emotion, action, or some combination of the two?  If the Bible has emotion in mind, what kind of emotion are we talking about?  Surely people aren't called to love their neighbor in the same way they love their spouse or their children, so what kind of love *does* the Bible ask for?  We'll explore the ways an array of traditional Jewish thinkers and modern biblical scholars has wrestled with these questions.  We'll also probe the very different ways Jews and Christians have often heard the Bible's charge, and we'll ask what we might learn about these two religious traditions and the relationship between them from their contrasting approaches to this all-important verse.
Speaker Bio: Rabbi Shai Held–theologian, scholar, and educator–is President, Dean, and Chair in Jewish Thought at Hadar.  Previously, he served for six years as Scholar-in-Residence at Kehilat Hadar in New York City, and taught both theology and Jewish law at the Jewish Theological Seminary.  He also served as a campus rabbi at Harvard University.  A 2011 recipient of the prestigious Covenant Award for excellence in Jewish education, Rabbi Held has been named multiple times to Newsweek's list of the 50 most influential rabbis in America and to the Forward's list of the 50 most influential Jews in the world.  He holds a doctorate in religion from Harvard; his main academic interests are in modern Jewish and Christian thought, in biblical theology, and in the history of Zionism.  Rabbi Held's first book, Abraham Joshua Heschel: The Call of Transcendence, was published by Indiana University Press in 2013; The Heart of Torah, a collection of essays on the Torah in two volumes, was published by JPS in 2017.  He is currently at work on a book about the centrality of love in Jewish theology, spirituality, and ethics, to be published by Farrar, Straus, &Giroux.
Lecture will be followed by Q&A. Event is free and open to the public.