Irene Oh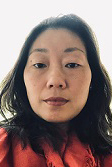 Irene Oh
Associate Professor, Chairperson of the Department of Religion
Core Faculty
---
Contact:
Office Phone:
(202) 994-1675
2106 G St. NW, Department of Religion
Washington DC
Irene Oh (Koukios) teaches courses in religious ethics and serves as Chair of the Religion Department. From 2009-2020, Irene directed the Peace Studies program. She currently co-edits the Journal of Religious Ethics. She is a graduate of Swarthmore College (BA, Religion), the University of Chicago (MA, Divinity), and the University of Virginia (PhD, Theology, Ethics, and Culture). She is the author of The Rights of God: Islam, Human Rights, and Comparative Ethics (Georgetown 2007) and is working on a book about the ethics of motherhood. 
Irene has been elected to the board of the Society of Christian Ethics, is a founding member of the Society for the Study of Muslim Ethics, and has served on the steering committees for the Comparative Religious Ethics Group and the Human Rights and Religion Group for the American Academy of Religion. She co-directs, with Rollie Lal, the GW Global Affairs and Religion Network (GARNET).