Fall 2020 Religion Department Newsletter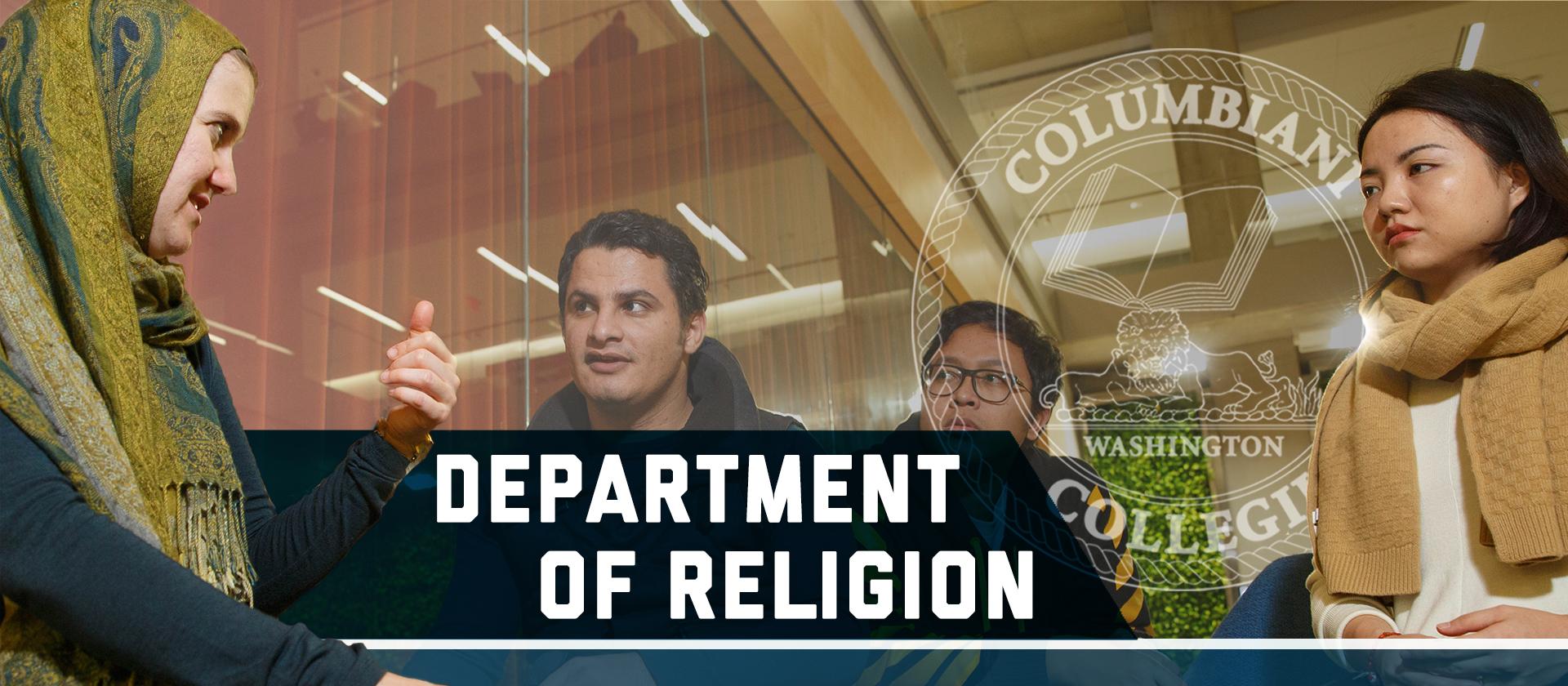 Message from the Chair
Department Spotlights
Department Kudos
Class Notes
Donor Recognition

Message from the Chair
Warm greetings from the Religion Department! As the new chair of the department, I feel tremendously privileged to have the opportunity to serve our excellent faculty and students. Although these are extraordinarily difficult times, our faculty have met the challenges of teaching and research in this new environment with admirable poise and dedication. I am moved by the efforts that our students make to attend classes, acquire knowledge and push themselves intellectually in an online environment. Student demand for courses that teach about the religious traditions of peoples near and far reflect the kind of curiosity that is so needed and welcome in our world today.
The Peace Studies program, housed within the Religious Studies Department, has been ably led by Derek Malone-France. An incredibly popular undergraduate major and minor, the Peace Studies program last year collaborated with universities in Colombia for an innovative project about the country's peace process.
Our MA program continues to thrive with the addition of a Shi'a track, supported generously by the Imam Foundation. The Imam Foundation provided full funding for two students and partial funding for three students. In addition to the core courses in Islamic Studies, these students will be taking courses on different topics concerning Shi'ite Islam.
Last year, students and faculty appreciated the opportunity to hear from three great scholars who were able to visit GW as a result of two endowed lectureships. Professor Shankar Nair from the University of Virginia, gave the 2019 Berz lecture, in which he discussed the history of Islam in India and Pakistan. The 2019 Ziffren lecture about the controversial Museum of the Bible on the National Mall included guest speakers Professor Jill Hicks-Keeton of the University of Oklahoma, and Professor Cavan Concannon of the University of Southern California, and was moderated by Professor Chris Rollston of GW's Department of Classical and Near Eastern Languages and Civilizations. We will continue with the tradition of holding these two endowed lectures this academic year, but in a virtual format.
The Peace Studies and Conflict Resolution program had a very active academic year 2019-20, with significant growth in the number of declared majors and minors in the program being complimented by impactful co-curricular programming. The program, along with our partners in the GW Debate and Literary Society, participated in an online and in-person debate series with partner universities in Colombia. You can read more about their activities in this newsletter.
Certainly, no one expected the obstacles that 2020 has put forth. But day-to-day encounters that I have with my students—even if over Zoom—reassure me that when the pandemic and political unrest are over, we will have a generation of bright and thoughtful young people who will help to shape our future. Be safe, and be well!
Warm Regards,
Irene Oh
Department Chair
---
Department Spotlights
2020 Berz Lecture Speaker: UVA Professor Shankar Nair
Professor Shankar Nair, University of Virginia gave the 2020 Berz Lecture.
Students and faculty thoroughly enjoyed the 2020 Berz Lecture given by Professor Shankar Nair of  the University of Virginia on the topic: "Islam in India and Pakistan: From the First Conquests to the Citizenship Amendment Act (CAA)." Professor Nair discussed the early Muslim encounter of the kingdoms of India and Southeast Asia, grand-scale religious civilizations entirely unmentioned in the Qur'an or in the sayings of the Prophet Muhammad. 
With so little explicit guidance from their scriptural sources, Professor Nair described how Muslims made sense of the incredibly diverse Hindu populations of South Asia. Though one might have expected Muslims to reject Hindus outright as mere idolaters and unbelievers, the historical response was surprisingly nuanced and accommodating. As modern nationalist forces in the region threaten to overturn this legacy, Professor Nair's talk reminded us of the forgotten history of Islam in South Asia, offering insights into how the region arrived at the crises it faces today.

"What We Owe" Debate Series
The Peace Studies Program, along with our partners in the GW Debate and Literary Society, received a letter of commendation from staff at the United States Embassy in Bogotá, Colombia, for our collaborative, bi-lingual debate and online speech competition, run in concert with Universidad del Rosario, Universidad Nacional and Universidad de los Andes, in Colombia.
The "What We Owe" Debate Series included a semester-long online series of research exchanges and debate rounds between undergraduate students at six U.S. universities and both undergraduate and graduate students at our three partner universities in Colombia. All aspects of the exchanges and competitions were bilingual, with debate rounds alternating languages. The culminating final rounds occurred in-person, at Universidad del Rosario, with two Colombian students winning study tours to the United States, hosted by GW.  This collaboration continues during the current academic year, with the new theme: "Peace and Pandemic/Paz y Pandemia," an exploration of the impacts of the COVID pandemic on the peace process in Colombia.
Students from GW, Vanderbilt, Universidad del Rosario and Universidad de los Andes accept awards following the final rounds of the "What We Owe" Debate Series, in the ballroom of Universidad del Rosario.
Continuing Higher Education
Graduation Day for students enrolled in the MA Program in Islamic Studies
Graduates of the MA Program in Islamic Studies are currently enrolled in prestigious doctoral programs at Emory University, Princeton University, Indiana University, St. Andrews University, the University of Edinburgh, the University of Virginia and the School of Oriental and African Studies. 
Led by Professor Mohammad Faghfoory, the MA program enrolled six graduate students last year, with three students having graduated in 2020, and the remainder scheduled to complete their degree in December 2020 and May 2021. Our graduates applied for PhD programs at Birmingham University and the School of African and Oriental Studies.
---
Department Kudos
Eyal Aviv authored the book Differentiating the Pearl from the Fish-Eye: Ouyang Jingwu and the Revival of Scholastic Buddhism (Brill, 2020).
Paul Duff published "Tracking Titus and Chronicling the Collection: 2 Corinthians 8 and 9," in Die Exegese des 2 Kor und Phil im Lichte der Literarkritik, edited by Hermut Löhr and Eve-Marie Becker, Biblisch-Theologische Studien 185, Göttingen: Vandenhoeck & Ruprecht, 2020, 195-231. He also had an earlier online article reprinted: "Historical Reliability in the Book of Acts," Point of View Publishing, Biblical Studies (2019), reprinted in a Kindle edition, edited by Mark Roncace, 2020.
Mohammad Faghfoory published "The Na'ib al-Imam: Shah Esma`il, Deputy of the Hidden Imam," in collaboration with Dr. Willem Floor in Zeitschrift der Deutschen Morgenlandischen Gesellschaft  (September 2020); and the forward to Laleh Bakhtiar's The Earliest Commentary Upon the Qur'an, Kazi Publishers (2020)
Xiaofei Kang received an American Council of Learned Societies Fellowship (ACLS) as the Frederic Wakeman Jr. Fellow in Chinese History, 2020. She also published an article: "Who are they? And Who am I?: Gender and Ethnicity on the Sino-Tibetan Borderland" in Out of Archive: A Reader on Fieldwork Research on Modern Chinese History, edited by Jan Kiely and Thomas Dubois (Routledge, 2019). Additionally, she edited Women, Family and the Chinese Socialist State, 1950-2000 (Leiden: Brill, 2019).
Irene Oh published two articles: "The Religious Situation 1968/2018: The Abortion Debate," Religion of Religion and American Culture 29.2 (Summer 2019) and "Decolonialism and the Future of Comparative Religious Ethics," Contending Modernities (5/2020). She serves on the Religion and Human Rights Working Group for the American Academy of Religion, and was recently elected editor of the Journal of Religious Ethics (2021-2026).
---
Class Notes
Sarah Afromowitz, BA '16, is completing her doctoral work in clinical psychology at Pacific University in Oregon.
Rachel Eilbaum, BA '18, is currently a student at the Hornstein School at Brandeis University in their MA/EDM in Jewish Professional Leadership and Jewish Educational Leadership MA Program.
Rucha Gopal, BA '19, is living in Washington, D.C., and working as a community relations and programs coordinator for INDIASPORA. 
Irene Mutwiri, BA '18, is earning her MS in foreign service at Georgetown University.
Sunny Patel, BS '17, is in his second year of the MA program at the University of Chicago Divinity School.
Rosanna Picascia, BA '07, finished her PhD in philosophy of religion at Harvard University and is now teaching in the Philosophy Department at Swarthmore College.
Alena Shalaby, BA '19, is working as a teacher in Honolulu, Hawaii, and applying to graduate schools in psychology.
---
Donor Recognition
The Religion Department would like to gratefully acknowledge the following generous donors who made a gift to the department from July 1, 2018 – June 30, 2019.
+ Faculty/Staff | # Parent | ~ Student | * Friend
Toby Shawn Bordelon, BA '99, MS '13 
Dr. Paul Duff +
Henry Ferry, Ph.D., BA '60
David Kehoe, BA '11 
Sara Kehoe, BA '11
Carma Khatib, BA '16 
Rev. Janet Parachin, BA '84 
Victor Rodriguez, MS '79 
Sarah Silverman, BA '17
Heather Young, BA '94, MA '96
Support the Religion Department