Derek Malone-France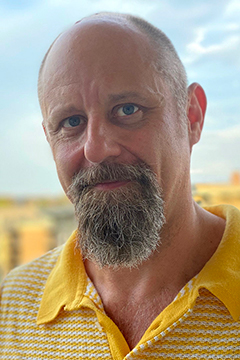 Derek Malone-France
Associate Professor and Director of Peace Studies
Core Faculty
---
Contact:
Derek Malone-France is an Associate Professor of Religion, of Philosophy, and of Writing.  He is also founding Co-Director of GW's French Embassy Center of Excellence and a member of GW's Academy of Distinguished Teachers (for which he served as the Inaugural Chair from August 2012-August 2014).  Derek's research and teaching areas include: philosophy of religion, metaphysics and epistemology, the philosophical and religious implications of astrobiology and human space exploration, political and legal philosophy, political and religious rhetoric, and educational theory and practice.  He received a bachelor's degree in Philosophy from Wofford College in 1995.  He received his doctorate in Philosophy of Religion and Theology from the School of Religion at the Claremont Graduate University in 2001.  Prior to coming to GW, he spent four years as a Mellon Writing Fellow and an Instructor in the Philosophy and Political Science Departments at Duke University, where he was awarded a Trinity College Distinguished Teaching Award in 2004.  He also served for two years as Associate Director of Duke's Center for Teaching, Learning, and Writing.  At GW, Derek has been awarded the Morton A. Bender Prize for excellence in undergraduate teaching (2008) and a University Service Collaborative Excellence Award (2013).
Outside of GW, Derek serves as a Trustee and member of the Board of Directors for METI, International, the nonprofit Messaging Extraterrestrial Intelligence Initiative, and as Director of Academic Design for the NASA Astrobiology Debates educational outreach project.  He has also previously served as Seminar Director for the Blumberg Dialogues in Astrobiology and Human Society, jointly sponsored by NASA and the Library of Congress.  In addition, Derek is a founding member of the Editorial Board for the Bedford Spotlight Series in Composition and Rhetoric at Bedford-St. Martin's Press.  And he is an elected Research Member of the International Whitehead Research Project.
Derek is the author of two monographs: Deep Empiricism: Kant, Whitehead, and the Necessity of Philosophical Theism; and Faith, Fallibility, and the Virtue of Anxiety: An Essay in Religion and Political Liberalism, which was shortlisted as a finalist for the American Academy of Religion's 2013 prize for Best Constructive-Reflective Work in the Study of Religion.  He is also the editor of a two-volume anthology titled: Political Dissent—A Global Reader, Vol. 1: Ancient to Early Modern Sources & Vol. 2: Modern Sources.  And he has published numerous scholarly articles on topics ranging from the formal logical implications of everyday linguistic structures to the politics of the International Criminal Court.
---
Philosophy of religion, metaphysics and epistemology, the philosophical and religious implications of astrobiology and human space exploration, political and legal philosophy, political and religious rhetoric, and educational theory and practice